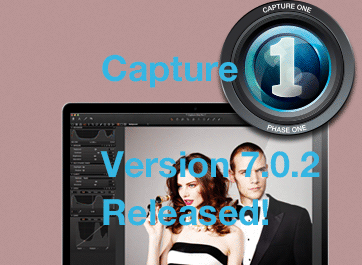 Capture One 7.0.2 Released!
PhaseOne, the creators of the well known RAW converter Capture One Pro, today released Capture One Pro 7.0.2.  Capture One Pro 7.0.2 is a service release providing a number of bug fixes, in particular for stability, and to add additional camera support.  The good news is C1 Pro 7.0.2 has added preliminary support for the Fuji X line of cameras.  What this means is, for the first time, the full high quality Fuji RAW files can be realized in a raw conversion process that takes advantage of the latest Fuji sensors to render out optimal high quality still images.  Gone are the artifacts, "crunchiness," and other problems encountered presently in other RAW converters.  Also, those high ISO files really sing!  While Capture One is not an inexpensive purchase at $299, for any of you currently shooting a Fuji X series who want to realize the ultimate quality of your files, you owe it to yourself to try C1 Pro for your RAW conversion needs.
What is puzzling though is, while PhaseOne has still not implemented tethering support for hot sellers the Panasonic GH3 or the Olympus OM-D,  they have included support for the Canon M – a mirrorless camera with no real advantage, a very small installed base, and somewhat questionable need for tethering support in the first place.  This seems a strange choice to me, and possibly a minor marketing blunder on PhaseOne's part considering Adobe provides full support for both in Lightroom and Photoshop Camera Raw.  But then, mine is not to reason why, mine is but to enjoy the Fuji support for now, and hope PhaseOne can get support for our other cameras integrated soon.
Uwe Steinmueller has done an excellent article about his workflow processing his Fuji RAW files using both Capture One and Lightroom here: OutbackPhoto.Com
From Phase One:
Capture One Pro 7.0.2 is a service release providing a number of bug fixes, in particular for stability, and camera support. Full release notes are attached:
Bug fixes
Improved stability.
Canon tethering now supported on OS X 10.8.
Improved support for pen tablets on Windows 8.
Other changes
Aligned use of image counts in the library tool: No counts for smart albums on Mac, no counts for groups and projects on Win.
Camera support
File support for Fuji X-Pro1, X-E1, XF1 (all preliminary).
File support Canon EOS M (preliminary).
sRaw and mRaw file support Canon EOS 1D X, 5D Mark III and 6D (preliminary).
File support for Olympus XZ-2 iHS (preliminary).
File support for Sony SLT-A57 (preliminary).
Tethered support for Canon EOS 6D.
Tethered support for Canon EOS M (does not support remote capture).
PLEASE RATE THIS STORY!  [ratings]