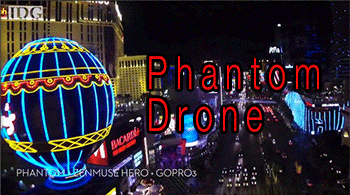 Phantom Drone
(Click Photo Above To Play Video)
Guangdong, China, headquartered DJI Innovations is one of the global leaders in developing and manufacturing high performance, reliable, and easy-to-use small unmanned aerial systems (UAS as they call them, Drones as the rest of the world know them), for commercial and recreational use. Their company size, over 500 employees, ranks them among the largest companies in the Drone market dedicated to making aerial photography and videography accessible to professional photographers, cinematographers, and hobbyists anytime, anywhere. Their global operations span North America, Europe, and Asia.
DJI is founded and run by people with a passion for remote-controlled helicopters and experts in flight control technology. Their advanced autopilot technology coupled with their unique gimbal stabilization systems enables the camera on the remote-controlled drone to film and deliver images of comparable quality as those shot on manned helicopters in a safer and more cost effective manner.
A new stabilization system for the Phantom remote-controlled flying drone was shown this week at the NAB show in Las Vegas, NV, along with their latest design in gimbal technology.  The two-axis Zen Muse gimbal allows a GoPro Hero 3 action camera to be mounted underneath a Phantom quadricopter made by the same company. The result is a camera that can be remotely controlled by the pilot and video that doesn't suffer from the jitters and rockiness usually associated with drone footage.  Judge for yourself in the video sample above.
Features of the Zenmuse Hero include:
2 Axis Sub-Pixel Stabilization

Enhanced Vibration Dampening

Remote Tilt Control
While GoPro aerial photography is just fine for some, the product with the greatest interest to me presently is the Zenmuse Evo.  The Evo is designed to fly the Panasonic GH3, which I happen to own and use routinely for my own video work.  The very idea of flying my GH3 for some scenes is very exciting!
The ZenMuse Evo features:
2.5x more powerful direct drive motors

3x more stable than current zenmuse gimbals

Advanced vibration dampening
The DJI S800 Evo features:
Stronger Arms with Foldable, More Efficient Props

Quicker, Stronger and more Responsive motors

Expanded airframe trays for mounting electronics

Superior vibration dampening built into the airframe

More durable, portable and stable than ever.
Known for their excellent flight control systems, DJI has also updated their "huge brain in a tiny box."
Features:
Forged Aluminum Housing

Built-in Receiver

More Powerful Sensors and IMU

iOS App controller
Last, but certainly not least, is the iPhone Control Application with live video downlink.
Features:
Low latency Video Downlink

Full remote camera control

Wireless synchronization
Prices for the new technology were not finalized at press time, but should be available shortly.  For more information about DJI Innovations, please click HERE.