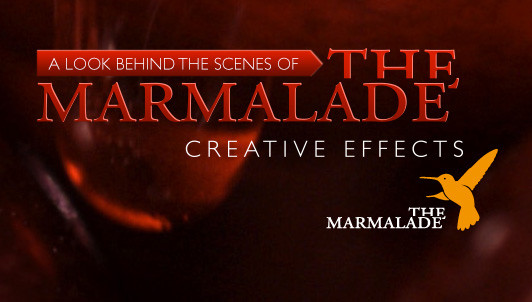 The Marmalade
Did you ever wonder how food commercials capture that perfect shot of beer cascading into a glass, or perfectly moistened vegetables falling elegantly onto a plate?  Let's go behind the scenes for a  visit to the German studio The Marmalade, where they specialize in slow motion capturing with a high speed motion control system, their robot they call "Spike".  This is a short movie about the company techniques to achieve beautiful footage used in advertising.  Yes, it is a promotional video reel of their work, no question.  It's still a shining example of the highest quality standards both in the creative vision and the execution using the highest level of production possible – then pushing the edge of the box just a little bit more.  It's wonderful working with clients that have the budget to execute great visions.
"The Marmalade's groundbreaking High Speed Motion Control System 'Spike' brings the creative freedom of a moving camera to the world of high speed filming and so enables them to create shots that would be impossible to achieve otherwise. 'Spike' can freely move the camera with unparalleled speed and precision, thereby removing the previously existing creative limitation of having to shoot high speed sequences with a locked down camera.  By marrying the hardware of a sturdy and reliable industrial robot to software that was built from the ground up for the demands of motion controlled high speed imaging, they have developed a unique system for creating real life camera moves with the ease of use normally associated with 3D Animation."
That's a big claim to make, even in a piece designed as marketing hype.  But these guys truly do pull it off.  Animation and CGI in general are great, but also very predictable in the end result.  That's the whole point in using CGI.  Nature, on the other hand, has that elusive quality that CGI can never have – the wonderful experience of the randomness you find only in reality.  There is nothing as "real" as reality.  You just need the tools to capture it.  The extremely talented people behind The Marmalade understand this very well.  Have a look for yourself.   Reality can be some powerfully fantastic stuff!
More info at http://www.themarmalade.com
PLEASE RATE THIS STORY!  [ratings]