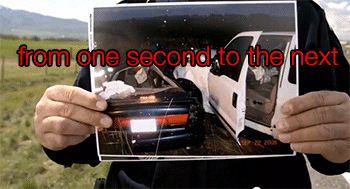 From One Second To The Next
Filmmaker and documentarian Werner Herzog (Aguirre: The Wrath of God, Grizzly Man) has directed a short film on the dangers of texting and driving. From One Second to the Next looks at how four lives have been impacted by texting-related accidents.  A gripping subject, from an excellent and inspiring filmmaker.
Created for AT&T's "It Can Wait" campaign, which has the backing of all the major US carriers, the documentary expands on the TV spots that Herzog also produced. Among the subjects of the film are Xzavier, a young boy who was left paralyzed by a car accident caused by texting, and Chandler Gerber, who killed three people while reading a text behind the wheel of a van.
All of the documented individuals have featured prominently in AT&T's TV spots, which were also directed by Herzog. The 35-minute film is, as you'd expect from Herzog, intelligently shot and produced, but at times the emotionally charged scenes can be very difficult to watch. Chandler Gerber's vivid account of the accident he caused is particularly harrowing; it shows a different kind of pain to that of the victims and their families, a longing regret that's perhaps more relatable to many.
The documentary is being distributed to over 40,000 high schools, and is available to view in its entirety above.   Living anywhere in the world today, texting is probably the most common activity people do without thinking about it.  Thankfully, people like Mr. Herzog exist who can reach people with the truth about the potential dangers involved when operating any machinery is involved.
PLEASE RATE THIS STORY!  [ratings]