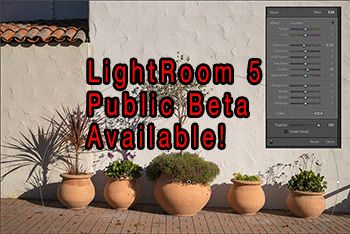 Lightroom 5 Public Beta
As with previous versions of Lightroom Adobe, we're launching a public beta of the new Lightroom 5 in order to get some final user feedback.
Listed below are the main new features of Lightroom 5:
Library
Smart Previews
The basic idea is to allow smaller previews and still be able to allow full editing capabilities. Why? Because on your notebook computers you may not have the disk capacity to store all your full sized raw images.
Smart Previews reside in the same folder as the catalog and are contained in a "lrdata" file folder structure. This is similar to the existing Preview file structure.

Original files are prioritized above Smart Previews and will be used when available.

Smart Previews will be used in the absence of an original file. Changes are saved to the Lightroom catalog and will be visible on both the Smart Preview and original image.

Smart Previews are "Lossy DNG" files and are currently limited to 2540 pixels on the long end.

Smart Previews can be used for Publish Services and Export to Email.
For some users this is likely a great new feature. We may not use it that much because on the road we only do very minimal editing anyway and edit our new images only. If we would want more we would use a 2TB smallUSB3 external disk to carry full images.
We are interested in getting feedback from our readers about how they think about this new feature.
PNG
You can now import PNG images into Lightroom. We waited for this new feature for a long time as it enables us to also import our iPhone/iPad screenshots.
Edit-in Photoshop workflow is supported. The PNG will be converted either to a TIFF or PSD, based on the preferences that you have set

PNG Transparency appears White

PNG file type criterion is both part of a Smart collection and Filters
Configurable Grid Overlays

You can set the grid width

You can set the grid opacity
While a small feature, it is more than welcome.
LAB Color Readout

Now you can read the color values in LAB mode if you like.
New Smart Collection Criteria including:
Size (in megapixels)

Bit Depth

Number of color channels

Color Profile

Smart Preview status* (Filter-> Smart Preview Status)

PNG* (Filter -> File Type)
*Also available as Filters
Major Additions to the Develop Module
Upright
The new Upright feature allows to correct automatically perspective and horizon.
Original
Using Lens Corrections -> Basic -> Upright ->Auto we get:

While this correction maybe really upright we find it a bit over corrected. With a minor fix in the Lens Corrections -> Manual -> Vertical tool we get a nice result:

Advanced Healing Brush
Besides the current healing spots you can now paint areas that are used for healing. This allows much more interesting healing operations:
• Just click and you get the usual healing spots
• Click and drag to create painted healing regions (see below)
Before (without doing upright)
We find the cut-off statue in the lower right hand corner not very fitting.

Radial Filter
The new Radial Filter is one of our favorite new features with endless possibilities. We had already filters as Gradients and Brushes. Now we can create shapes like circles and ellipsis. The user can select to concentrate the effect to the inner or outside of the radial shape.

This photo demonstrates a none centered vignette. This kind of shapes can also be used for corner sharpening.
Controls:
Feather

Inverted or not (inverted means inside the radial shape)
Because you can use as many radial tools you like you can use it on more than one spot. Here we opened up the shadows inside the trees only:

Conclusion
Our top new tools are the Radial Filter, advanced Spot Healing, Smart Previews, and last but not least, the PNG support.  Get the Lightroom 5 public beta and experience yourself.