The Bicycle Series
The Bicycle Series
It was just after sunrise on an October morning in 1989 when Arturo Monroy, a brilliant watercolor painter living in Antigua, Guatemala, opened his window to 7A Avenida Norte.  A neighbor Arturo knew to possess unquestionable psychic talent greeted him as he passed below, proclaiming: "Arturo, something transformational will happen to you today that will change the direction of your life.  Have a nice day."
The morning passed without incident.  Around noon Arturo took the bus to Guatemala City… returning home following an intense thunderstorm around 7 pm.  As he walked through the front door his wife greeted him with an embrace and proclaimed "My love… your friend Lawrence has stopped by to visit.  He has been waiting for a while and is anxious to show you some new work!"
Arturo glanced at me, soaked like a drowned rat and sitting on a bench just inside the door.  He was visibly depressed and in no mood to visit someone he didn't recognize.  I stood up to greet him and asked "How are you Arturo?  I met you last year at the Carlos Garoz Cabrera exhibition at Sereno and we all later went out for drinks.  I'm the photographer who was documenting Antigua and I showed you some small prints of my work."
"I think you've confused me with someone else, Lawrence.  I've never seen you before," he replied.  I reached in my bag and pulled out a small Cibachrome print of a red house on 6a Avenida and showed it to Arturo, watching his expression change from disappointment to surprise… and finally recognition.  "Lawrence!  You didn't have a beard on your last visit!  You look completely different without it!  Please come into my studio!"
 As we walked to his studio I mentioned that I had brought 12 large Cibachrome prints from my Antigua Series, over-matted to 22×28", and one in particular had generated great interest among artists who knew Arturo.  It was an image of the old bicycle repair shop that had recently been sold and no longer existed.  Everyone who saw it insisted that I show it to Arturo as this wall had inspired a series of 34 watercolor paintings of bicycles called Fragmemntos.   All but four had sold in his most successful exhibition ever, and because of the mastery of the watercolor medium embodied in these works, art critics in Guatemala had proclaimed Arturo a Master Watercolor Painter.
I began the process of removing individual matted prints from my box, slipping them out of their plastic covers before removing the tissue between the matte and the fragile print.  I proceeded until the tissue was removed from the print entitled "Bicytaller Los Angeles", when Arturo became very animated and explained how this image inspired the most successful series of paintings he had ever created… finally adding that he didn't even have a snapshot of the wall!

"How much does your work sell for, Lawrence" he asked?  I responded that Photography West, a gallery in Carmel California, sold the work for $500 and gave me half.  It was clear that Arturo would love to have purchased the print but didn't have the means.  I asked him where he kept his unframed paintings?  He motioned to a flat file cabinet and I asked him to show me as I re-inserted the tissue under the matt and slipped the matte back inside the plastic sleeve.
As the drawer was opened I tossed the matted print into the drawer.  "What are you doing, Lawrence?  I can't afford $250 let alone $500!"  Since when do you pay for a gift, Arturo?  There is no way this print is going home with me.  It has found a new home and I'm anxious to see the prints you didn't sell from the Fragmemntos show!
Arturo went into an adjoining room and came back with a small framed painting from the series, writing a dedication on the back of the masonite backing with a pencil.  He handed it to me and thanked me for my gift.  He then removed the three remaining paintings from a large Arches pouch.  What emerged were the most beautiful watercolors I had ever seen!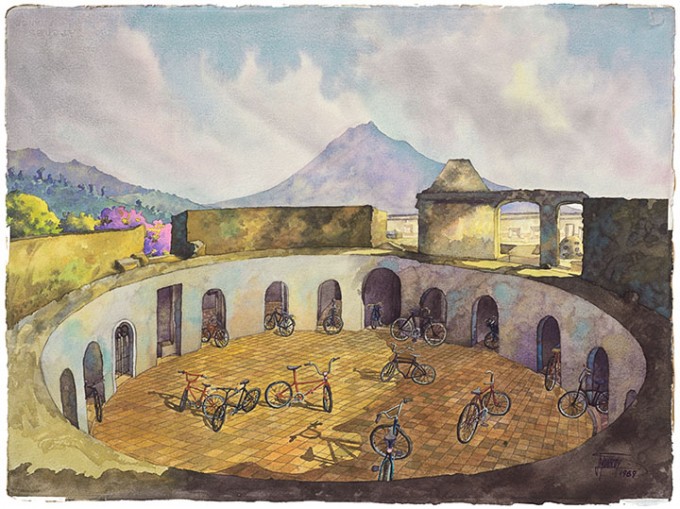 "What would you sell these paintings for," I asked?  Arturo mentioned that his greatest wish was to be able to take an oil painting workshop in Santo Domingo and needed a certain amount of money to do this.  He had no shows scheduled for the coming months and had little hope of raising the needed funds.
The amount he specified was $20 less than my remaining budget for the Guatemala trip.  Since my room was paid, the $20 would pay the transport fee to the airport and my departure tax… leaving me just enough for a cup of coffee before the flight.  It was a done deal, and I left with the four remaining paintings wrapped in heavy plastic to guard against the rain.

I returned to Antigua in 2004 for the first time since that last 1989 visit.  A friend in California who was a triathelete had seen the original paintings and asked if I would approach Arturo with the idea of doing a series of Limited Edition pigment prints as he wanted to buy one.
I made a series for Arturo and prefaced my offer by first indicating that if he had any objection to this series of Limited Edition prints I would allow him to destroy the prints and I would return the money to my friend.  If, on the other hand, he liked the idea, I would give him one of each of the prints and pay him 70% of the selling price, retaining the balance for scanning and print costs.  The three first prints from the Edition were a gift from me.
Arturo was elated with the prospect! It was only then that he told me about the prophecy from his psychic neighbor on that early October morning in 1989.   My evening visit had brought that prediction to fruition and Arturo attended the workshop in Santo Domingo, months later.
With Arturo's permission, I am now releasing an Edition of 75 prints from this series.  All pigment prints will be made on Crane Museo Acid Free Cotton Rag Fine Art Paper.  They will be the same size as the originals and only 73 prints will be made from each.  There are in addition two artists proofs in the series.
Lawrence Beck
November 26, 2012
For more information, or to order prints please contact Lawrence at apocolibri@mac.com
PLEASE RATE THIS STORY!  [ratings]