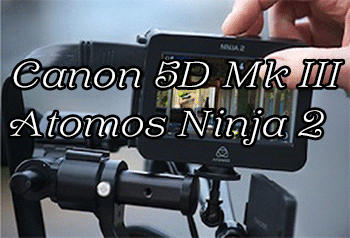 Canon 5D Mark III & Atomos Ninja 2
Canon 5D Mark III & Atomos Ninja 2 …finally from Stefan Czech on Vimeo.
After waiting  over a one year, Canon has finally released the long rumored firmware update for the Canon EOS 5D Mark III. One of the main features of firmware version 1.2.1 is the ability to now output a "clean" uncompressed 8 bit HDMI signal.  By clean, I mean it no longer displays the overlay information normally shown on the rear LCD screen of the 5D Mark III camera.  For myself, this is a huge improvement, and the one that pushed me over the buying edge.  I have added a Canon 5D Mark III to my camera arsenal of Contax-Zeiss lenses, with the intention to produce video productions with higher production values for my clients.  More on that later.
Now that the 5D Mark III can record to an external recorder, I chose the Atomos Ninja-2.  I'll be working on a full report for a later time, but suffice it to say that the ability to have a beautiful external monitor shooting video is not an "option" as much as it is a necessity for me.  I am one who does not like autofocus for video, period.  I much prefer to choose my own focal points, and frequently change them between setups.  Unlike a true "videographer" my documentary style work is more interviews and run and gun than it is multiple fixed setups.  So Zebra stripes, focus peaking with interchangeable colors, recording to SSD cards for security and speed, and finally the ability to record in a universal editing standard 220mb ProRes 422 HQ codec (with timecode!) are all exceptionally valuable creative film making tools.
When I found out that for $795 I could get a full blown field recorder with a great monitor for the same price as a brand x monitor alone, the choice was very easy.  I need all of these capabilities; all the technical help I can get to provide a better quality end result for my clients and a smoother, simpler, faster workflow for myself.  I am often a "One Man Band" on some assignments working without an assistant.  This requires more sophisticated tools than my preset low-cost GH3 setup could provide, particularly better control over shallow depth of field.  The 5D Mark III with its full frame sensor is much better to use in creating shallow depth of field effects than any m43 sensor camera due to the physical sensor size.  Please understand that I love my GH3, it just isn't the perfect camera for every job.
I am just setting up my Canon 5D Mark III to work with my new Ninja 2.  I found out the hard way there are no instructions included with the Ninja-2.  Both the Ninja and the 5D Mark III body do need certain settings changed to work together in the highly integrated manner as both were designed.  Canon and Atomos worked closely together to integrate the features for the optimum user experience and highest output quality.  But they forgot to include the instruction book!
Fortunately for all of us, Stefan Czech shows us the benefits of using this combination, how to set up the 5D Mark III and the Ninja-2 for operation…and a whole lot more.  His is one of the most detailed and informative product reviews I have seen.  Unfortunately, also one of the longest at nearly forty minutes!  A truly herculean effort on Stefan's part that will sadly only be fully appreciated by those like myself who have already bought and those seriously considering it.