Samsung Portable SSD T1

The Samsung Portable SSD T1 has all of the usual nice things about flash storage.  It has no moving parts, it is blinding fast compared to rotating platter hard disk drives (portable or otherwise), it is extremely reliable, it is practically indestructible, and did I mention it is as fast as a proverbial shot of weasel piss?  Up to 450MB/sec. fast over the built in USB 3.0 interface!  Portable storage fast enough to real-time edit your stills or video while on the road using only this drive and your MacBook Pro!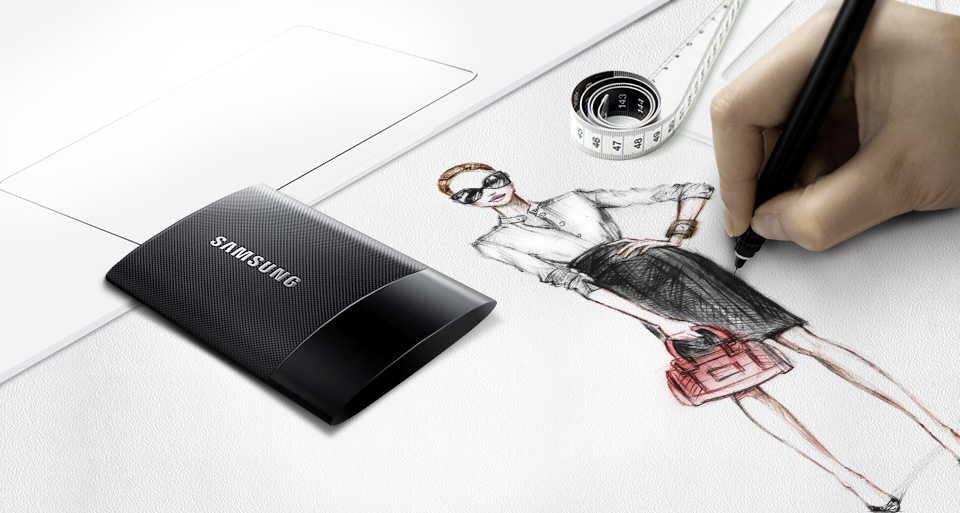 Small, light, and finally in a package suitable to be seen outside of a high school physics lab, the Samsung Portable SSD T1 will be shipping in three sizes. The economical 250GB has sufficient space for your still photography needs at only $179.99 USD.  A larger 500GB will have space to store all of your still photography Lightroom catalog, and a few videos as well for $299.99 USD.  Or, if your like me and an avid hybrid storyteller, you will want to go all the way and pickup a full 1TB drive to accommodate all your still, audio, motion, and video needs for a quite reasonable $599.99 USD.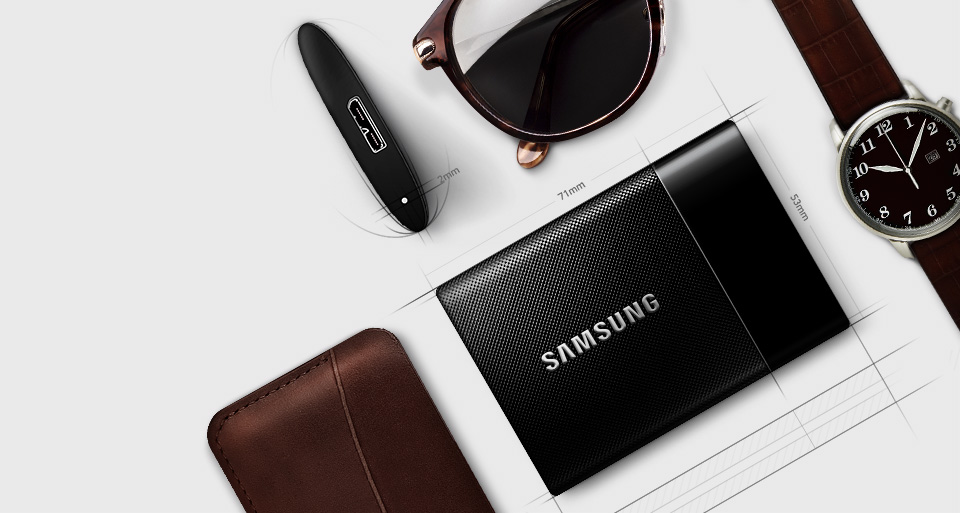 The other feature that makes the Samsung Portable SSD T1 a must own product is the security.  As a professional, I always try to travel with a full copy of my image archive.  Off site backup always with me gives me a security knowing I can always access any of my images whenever I need.  The  problem with carrying around an off site backup of my full catalog has been what if I accidentally lost it, or worse, somebody stole it from my bag?  Hardware locks and armor plated cases are big, heavy, and cumbersome so I never bother with those.  Software encryption works but substantially slows down the performance of a rotating drive.  Until now.  The Samsung Portable SSD T1 does it all in hardware!
Yep, you read that right.  The Samsung Portable SSD T1 drive sports a full on AES 256-bit hardware encryption with you simply entering your password to access when you need to mount the drive.  Nothing simpler than that, and good luck to anyone trying to crack an AES 256-bit encryption!  This looks like a product to own if like myself you spend a lot of time in the field.
Specifications
| | |
| --- | --- |
| | Samsung Portable SSD T1 |
| Capacity | 250GB / 500GB / 1TB |
| Interface | Compatible with USB 3.0, 2.0 |
| Dimensions (W x H x D) | 71.0 x 9.2 x 53.2 mm |
| Weight | Max. Only 30 grams! |
| Transfer Speed** | Up to 450MB/sec. |
| UASP Mode | UASP Mode |
| Encryption | AES 256-bit |
| Security*** | Password setting (Optional) |
| Certification | CE, BSMI, KC, VCCI, C-tick, FCC, IC, UL, TUV, CB |
| RoHS Compliance | RoHS2 |
| Warranty | Limited 3 year |
*    1GB = 1,000,000,000 bytes, 1TB = 1,000,000,000,000 bytes
**   Performance can be vary depending on host configuration and test software
*** User can select security option in initial registration process (For more details, please refer to the Samsung users manual)
PLEASE RATE THIS STORY!  [ratings]