Sony A7II Full-Frame Mirrorless With 5-Axis IS

Want the full story on what 5-Axis IS does? Play this movie above and in two minutes find out. Only have thirty seconds to spend? Play the quick marketing overview piece below.

The Sony juggernaut just never rests.  First came the groundbreaking Sony A7, packing twenty four megapixels into a tiny body almost small enough to slip into your jacket pocket.  Today, the refreshed Sony A7 II model was announced in Japan.  Always great at keeping their announcements secret, the real news on this 24MP full-frame mirrorless is its 5-axis sensor-shift image stabilization – a first of its kind for a full-frame mirrorless camera. This is a similar system sported by the Olympus OMD E-M1, where it works a treat with the M43 sensor, so should take the shake out of our full-frame images just as well.  Many claim the 5-axis IS to be the best feature on the E-M1.  Sony claims that this IS system can reduce camera sensor shake by 4.5 stops using the CIPA standard. Wow, that is a lot of stabilization.  In addition, if one of the Sony E-mount lens with OSS is attached, the camera will detect it and automatically use a combination of in-lens and in-body stabilization working together.  Smart move, take advantage of the best of both worlds.  It sounds like Sony is getting real serious  declaring war on shaky video!  This major new feature should help sales on the new A7II, where the earlier A7 sales have been somewhat anemic compared with the sales of the immensely popular A7R and A7S siblings.
Like the original Sony A7, the Sony A7II features 117 phase detect and 25 contrast detect points on its CMOS sensor, however Sony claims a 30% improvement in the Sony a7II AF speed and 1.5x better tracking performance than its predecessor. Time will tell on the latter claim, and if accurate, will be a welcome improvement.  Sony says this is all thanks to its 'proprietary image analysis technology' using more information from a scene to keep focus locked on a subject.  I call it techie hocus locus, but who cares what it is called as long as it works!  I guess this means a smarter chip, but we will have to take a wait and see attitude on this one.  Something to be tested once this new camera starts shipping is the exciting prospect of using my  manual focus Leica and Zeiss glass with full IS.  That gets my juices going, for sure!
We also have some fantastic news on the video front, with Sony including in the Sony A7 II support for the fabulous XAVC S codec, which can record 1080/60p video at 50Mbps. The camera also supports S-Log2 to capture a wide dynamic range in video for post grading.  These are two very serious improvements, and two of my favorite features found on the sister camera, the Sony A7S.
The physical features of the camera are changes primarily to the grip, which is larger and has grown a front dial control. The shutter release button has been moved to a more natural position on the top front of the grip so your finger falls naturally to the right position.  The on/off switch positioned just below the shutter release button also for more immediate "single finger" control.  With the already increased power on speed in the latest A7 firmware update just released, this position change and the faster warmup should bring the Sony A7 II to the point of being ready for action much more quickly than its older sibling. Oh, and the front panel is now magnesium alloy instead of plastic which should greatly reduce flex with heaver lenses. The lens mount has also been reinforced, for more stability, again when using heavy long telephoto lenses.
The a7 II is expected to ship in Japan on December 5th.  It will be available in the USA on December 9th for $1700 body only and $2000 with the 28-70mm F3.5-5.6 FE lens.
So what do the fans think of the inclusion of image stabilization in this new Sony A7II?  A picture is worth a thousand words!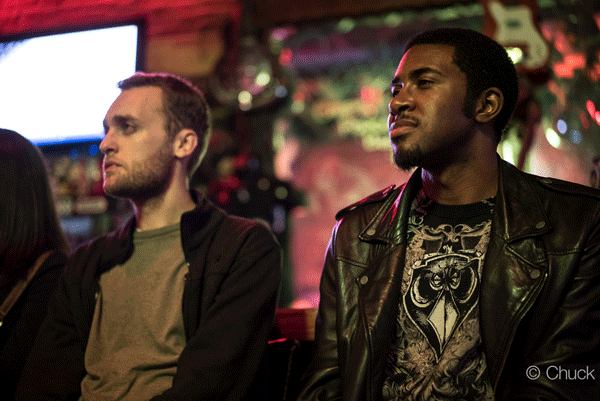 PLEASE RATE THIS STORY!  [ratings]