CES Round Up For 2014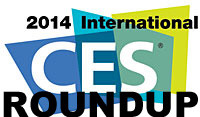 While most of the country chilled out inside avoiding the "Arctic Vortex," thousands of brave souls battled the crowded isles for the annual Consumer Electronics Show (CES) this week in Las Vegas, NV.  Show attendance was reportedly brisk again this year, where the features were focused more on services and coming attractions than on new hardware releases, that is, unless you were looking for a new 4k TV.   4k TV was everywhere.
The mantra for this week was fewer new cameras, with greatly enhanced features like Wi-Fi and NFC for wireless communications between camera and your smartphone, er laptop ;=)  This is not the first year the smartphone onslaught has taken its toll on the lower end of the point-and-shoot camera market.  As a marketeer, I will never understand a hail Mary consumer marketing desperation play like controlling a point-and-shoot with a consumer's phone.  Why not just raise the phone and use it, given it likely contains a far superior at high ISO, higher resolution sensor than any point-and-shoot anyway?  Judging by the few number of survivors, and the numerous new advanced software powered features introduced on the latest smartphones, I predict 2014 will be the last year for new point-and-shoot cameras.  I fear the days of the "point and shoot" camera have become the days of "point your phone" instead.  I pronounce the venerable point-and-shoot officially dead.  Long live the SmartPhone.  
As expected, new smaller camera models were introduced by Canon, Nikon, Panasonic, Fujifilm, Sony, Samsung, and a couple lesser brands.  Though it did appear to be a physically smaller selection than in other years, the CES booths were  flooded as always with inexpensive little cameras.  Possibly due to market saturation, and possibly due to many new upper end mirrorless models being released late last quarter in time for Christmas Shoppers, there were not a rash of new high end announcements other than those relating to 4k video.
Nikon
Record numbers of cameras were sporting superzoom lenses (above 20x) and greatly improved sensors for low light, high ISO shooting.  Ironically, the show that started out featuring new DSLR releases only saw a single new announcement this year.  Nikon's D3300 was the only DSLR to be introduced at the 2014 CES Trade Show.  Makes me kind of wonder, will it be the last?  The D3300, which replaces the D3200, is the DSLR upgrade path for the point-and-shout crowd, if there are still any stragglers of those who haven't already adopted a smartphone instead.  As with its predecessors, the D3300 has a built in Guide Mode, which can hold consumer users' hands with technical advisory notes for every setting on the camera.  Think of it lake braille for beginners, it tells you what to choose and when to choose it.
Nikon mite do well implementing Guide Mode on the new D4S, not yet announced but sitting right there center stage under glass just to let everyone know "It's Coming, we're working on it"  but with the glass fogging up any decent photos. Thank you for the reassurance Nikon.  It was a big surprise – yawn.
Canon
Canon was surprisingly quiet at CES this year, with the introduction of only three cameras by my count, all of them designed to compete with the smartphone hoards, and none of them the long awaited and long overdue ultra high resolution professional body many anticipated Canon to announce.  Nikon with their D800 has now been joined by Sony with the A7R in the smaller camera, higher megapixel race.  Canon it seems will once again be a non starter, at least for this event.  I mean, come on guys-can't you do better than a couple of lousy point-and-shoots and a new Elph?  This is not exactly rolling out the big competitive guns here!
Fujifilm
In the run-up to this years CES, Fujifilm introduced a 56mm f/1.2 lens and a roadmap for future lens releases. For those who mite have missed it, I cover that story here.  Ear to the ground and listening to popular demand, Fujifilm also announced a black version of its excellent and quite popular X100s  compact digital.
Another of the interesting Fuji announcements was the Fujifilm FinePix S1 which can be operated remotely via Wi-Fi and smartphone or tablet, and photos can be easily transferred from the camera to your mobile device or computer. It has a 920k dot resolution EVF as well as a 3-inch flip-out LCD monitor.
Fujifilm FinePix S1 key features:
Dust and weather-resistant
50x image stabilized optical zoom lens (24-1200mm equivalent)
1cm super macro mode
5-Axial Image stabilization
16.4 megapixel 1/2.3-inch backlit CMOS sensor
AF speed claimed to be 0.14sec
Claimed Start-up time of approximately 0.68sec
Shooting interval of approximately 0.65sec
Maximum continuous shooting speed of approximately 10.0fps
920K dot EVF
Vari-angle LCD screen
Time Lapse Interval Shooting function (up to every 10mins for 6hrs max)
10 Artistic Advanced Filters
Wi-fi connectivity
Full HD Movie recording
Focus Peak Highlight shows the outline of the subject and any other areas with high contrast when they're brought into focus. The S1's C (custom) setting, as well as  the usual P, A, S, M functions on the Mode dial, lets more experienced users dive deep into exposure and other settings, and a Function button registers shortcuts to get to settings like white balance and ISO.  The S1 offers multiple aspect ratios, and the S1's Advanced filters let users choose from 10 different artistic effects: Pop Color, Toy Camera, Miniature, Partial Color, High Key, Soft Focus, Cross Screen, Dynamic Tone, Fish Eye, and Low-Key.
The S1 allows high-speed, multi-frame processing; users can record two or more shots at different exposures and then combining them to achieve High Dynamic Range (HDR) results. Motion Panorama 360 mode lets users create a 360º panoramic shot just by pressing the shutter button and turning around in a circle. The Fujifilm Finepix S1 will be available in black only. Pricing and availability to be announced soon.
Fujifilm FinePix XP70
Fujifilm's waterproof XP60, in bad need of an upgrade, and has been replaced by the Fujifilm FinePix XP70, which shows up with basically the same features as the XP60 save for the all new addition of Wi-Fi and image sharing support.  The FinePix XP70 features a 1/2.3-inch, 16.4MP CMOS sensor capable of capturing up to 10 frames per second and 60fps capture of 2MP images. It has a 5x optical zoom lens that starts at 28mm (35mm equivalent). It is waterproof, shockproof, freezeproof and dustproof, offers 10 creative Advanced Filter functions (Pop Color, Toy Camera, Miniature, Partial Color, High Key, Soft Focus, Cross Screen, Dynamic tone, Fish-Eye, and Low-Key) and promises to be as much fun to use as the previous models in the XP series.  My wife has used one of these cameras for many years, and loves using it in the swimming pool with the grandkids.
Fujfilm XP70 Key Features
Waterproof to 10m, Shockproof to 1.5m, Freezeproof to -10℃ and Dustproof
16.4 megapixel 1/2.3"-inch CMOS sensor
5x optical zoom with 28mm wide-angle setting
Wireless connectivity for instant image and movie sharing
Full HD movie capture
Action Camera mode
Optical Image Stabilization
10 Advanced Filters
High Dynamic Range (HDR) capture
Motion Panorama 360°
Fujifilm has also designed an optional Action Camera Lens, which turns the camera lens into a fixed 18mm (equivalent) and can be mounted to the user's body or sporting equipment for hands-free, point-of-view action videos. Now how cool is this?
Non-Camera Things Of Note At CES
From LG
Curved TVs are the thing to show off for this new year. Their purpose has something to do with peripheral vision and close-proximity viewing creating a more immersive consumer experience. Or it's simply companies saying, "Hey dude, look here we can bend shit!"
From Dish Network
Dish Network thinks Americans watch too many commercials but not yet enough TV.  How's the shopping list – want to download and record shows to your computer? Ok, Done.  Want a second-screen app for social with friends? Check.   Satellite TV was never this way when I used it!
From Sony
In addition to their wonderful ass kicking cameras, Sony also has really high-resolution TVs.  Amazing viewing some things at 4k.
From Cisco
Cisco demonstrated how the "Internet of Things" and their "smart house" might eventually be underwritten by the NSA. Down right creepy was the way a mother stalked her son from her office desk.  From his school bus ride, to her lunchtime interruption as the boy is reaching for a piece of food he's allergic to.  George Orwell was an optimist.  1984 was just the beginning.  The Internet of Things was the most talked about trend at CES this year, and potentially the most world changing.
From Two Dozen, 3D Printing 
3D Printing, which had just crossed over into consumer-friendly devices last year, has exploded into widespread use in less than a year.  The number of 3D printer exhibitors went from less than ten last year to over two dozen this year.  Analysts forecast worldwide shipments of mass market 3D printers, already a billion dollar business, will nearly double from last year to 100,000 units in 2014, and then double again in 2015. A home 3D Printer is now available for as little as $500.  It won't be long until we buy a design, download it, and print the actual item out on our own printer right there in our own home.
And Finally, The Highlight of this years show forecasting the future year in Consumer Electronics  ..
Lexar Shows The World's Fastest CF Cards—But No Camera Yet Announced Can Use It.
That's right, Lexar is selling a product nobody needs – yet.  Perhaps 4k camera technology is further along than we have been lead to believe?  3333X Lexar CF cards have an amazing speed rating if true, but 1066X is the fastest transfer speed mustered from today's announced and/or released DSLR or video camera bodies.  So how do you test the high speed claims?  Makes one suspect someone at Lexar knows about things like 4k video, ultra high speed frame rates, that Nikon D4s sitting under glass in Nikon's booth that nobody can touch (does it truly work, or is it just a plastic dummy?), and the widely rumored yet still unannounced Canon super resolution camera – a camera it seems even Nikon expected to have to compete with here at CES 2014.  But for that story this reporter will need to dig a little further…
PLEASE RATE THIS STORY!  [ratings]