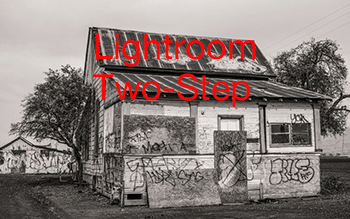 Our Lightroom Two Step Editing Technique
We often use a two-step method to add additional processing to our images. The first step is to develop the color image to be kind of standard and natural (both subjective). But sometimes we want to add to the image a grungier look, convert it to B&W and/or sharpen with out Optimal Sharp V3 scripts in Photoshop.  Because we want to keep the original image unchanged we create a stacked copy of our original developed photo. Think of it as two processing steps on top of each other (e.g. like in Photoshop). Lightroom has no flatten feature so we use a stacked copy instead.
Note: This is actually what you do if you use any third party Lightroom plugin or Photoshop.
The stacked copy gets created via an export preset.
• Export Location: Same Folder, check "Add to Catalog" and "Add to Stack"
• For File Naming we use a special suffix: here "_MCopy" (stands for master copy)
• File Settings: We often use lowest compressed JPEGs with our normal working space "Adobe RGB". If you worry about your image quality at JPEG you can of course also save as 8/16 TIFF. Actually our method would even allow to switch to TIFF later if it would be required. In general these JPEGs are fine because all the major image corrections are already done at this point (with the master developed image).
We also use the Metadata Wrangler Lightroom plugin to avoid that some keywords get copied:

These are keywords we use to control portfolios with Smart Collection.
Here is a sample session:

Original (after Lightroom development)In this case we made a stacked copy and add a mild grunge look:
Mild Grunge Look
We also wanted to create a B&W version. We get better B&W results when we start from a well-developed color version (a stacked copy) and not from scratch with Raw (exactly what you would do with any 3rd party plugin). This time we don't need another stacked copy because a Virtual Copy of our first stacked copy is just fine.
Here is the final stack we get:


• Stacked copy with grunge color image
• B&W Virtual Copy
• Color image that we started with
Don't we lose the non-destructive nature of Lightroom?
Actually with all 3rd party plugins you would enter destructive editing. This is not the case with our technique. Lets assume you would later find some dust spots in the original color image. Then you would correct this on the original image and create the stacked copy again by overwriting your first copy (this works as long as you know what you did at this step: e.g. sharpen with Optimal Sharp V3). All the editing steps of the new image would then use the newly created copy (without the dust spot). Also all the editing performed for B&W and grunge are fully non-destructive. All changes can be further tweaked at any time. You cannot do this with any third party Lightroom plugin.
We plan to write an extra "Lightroom Artistry: Develop B&W" book and it will use this stacked copy approach exclusively.
For more information or to purchase our plugins please visit http://www.outbackphoto.net
PLEASE RATE THIS STORY!  [ratings]