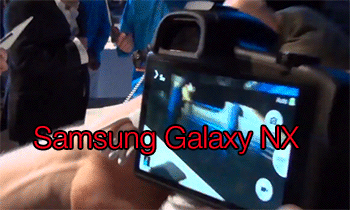 Samsung Galaxy NX – DSLR or Android?
Video Curtesy of Endgadget.
Whoa, hang on here camera fans! Something new is coming from Samsung; the long anticipated Samsung Galaxy NX camera with an operating system based entirely upon Android OS.
A camera powered by an Android operating system?  Another Samsung product likely conceived and cleverly priced by brand managers over in Asia, and anticipating an American market similar to the one they experience at home.  Sorry guys, I'm afraid this product is a little too out there for even the extreme fringe of the US camera market who will buy almost anything different.  Now, if you had included the phone itself, or at least built in a cell connection for a data plan a la tablet, you might have earned a few of the early adopters crowd.
I'm also so sorry to have to be the one to tell your Brand Manager his pricing strategy sucks.  I mean, come on, just how good can a $100 zoom lens be?  If this damn camera is worth a whopping $1,600 frijoles for the body only, it must be a real Texas barn stormer.  If that is the case, I'd want to complement it with the best lens possible, not some cheap kit zoom.
On the other hand, if what we have is camera phone quality in a DSLR form factor at a DSLR price, that $100 lens should complement the Android OS perfectly.
My prediction?  This product will sell well in Japan.  It has some potential in other parts of Asia.  It will be a dismal failure in North America. (Canada, USA, Mexico)
Samsung Press Release for the Galaxy NX:
Highly Anticipated Samsung Galaxy NX Camera Available in the US in Time for Holiday Shopping
First Interchangeable-Lens Camera with Android 4.2 Jelly Bean, Available in October Starting at $1,599.99
RIDGEFIELD PARK, N.J. – August 29, 2013 – Samsung Electronics America, Inc., a market leader and award-winning innovator in consumer electronics, today announced pricing for the GALAXY NX SMART camera; the first connected Compact System Camera (CSC). The GALAXY NX will be available $1,599.99 (body-only) or $1,699.99 (bundled with an 18-55mm lens) and will be available in U.S. stores in October, just in time for the holiday shopping season. Adaptable and simple to use, the GALAXY NX combines cutting edge optical performance with connectivity capabilities and a variety of applications based on the Android eco-system, all in one stylish package.
"Photographers today live mobile lifestyles and they demand tools that allow them to share their work – in stunning detail – instantly," said Ron Gazzola, Vice President of Marketing for Digital Imaging. "The GALAXY NX camera represents the pinnacle of technology convergence in our 2013 SMART camera line, successfully marrying the benefits of our GALAXY Camera with the imaging prowess of the award-winning NX interchangeable lens SMART cameras."Android Integration
Powered by the Android 4.2 Jelly Bean operating system, the GALAXY NX offers a professional-level photographic experience with the simplicity and familiarity of a smartphone. Users can choose from a variety of Android apps to help personalize their GALAXY NX and do more than just shoot amazing photographs and video – from editing images to adding special effects to staying in touch with friends and family.
Professional Image Quality
The GALAXY NX's 20.3MP APS-C Sensor produces images that are bright and detailed, even in low light conditions, while the DRIMe IV Image Signal Processor delivers the speed and accuracy today's photographers demand. Its Advanced Hybrid Auto Focus (AF) System ensures accurate phase and contrast detection for crisp, vibrant shots, while the 1/6000 sec shutter speed and 8.6fps shooting lets users capture the action as it happens.
The flexibility offered by the GALAXY NX's selection of Interchangeable Lenses places creative control firmly in the hands of the photographer, opening up a world of imaging possibilities, whatever the scenario. From compact pancake lenses and an ultra-wide fisheye, to exquisite longer prime and zoom lenses, the extensive optics portfolio helps users create images that are truly special.
Smarter SMART Features
The GALAXY NX is teeming with options to capture life's memorable moments. Photo Suggest provides location-based recommendations of popular photography spots, sourced from a huge library of images taken by fellow photographers across the world. Story Album lets users relive memories by displaying special moments on one timeline, reframing and resizing them to create digital photo books that can be viewed and shared on other devices.
The GALAXY NX boasts more than 30 Smart Modes, allowing users to select the optimum settings for almost any scenario, as well as create fresh, artistic images. 'Multi Exposure' merges two different shots together to produce one distinctive image, while 'Animated Photo' connects continuous shots of up to five seconds, creating a moving GIF file. For added realism, 'Sound & Shot' stores sound and voice together as the picture is taken, so moments are captured exactly as they happened.
For added personalization, Camera Studio allows users to easily customize settings with their most frequently used applications or camera modes, making sure their photos are captured exactly as desired every time.
Pricing & Availability
The GALAXY NX will be available at www.samsung.com and authorized Samsung retailers in October for $1,599.99 (body-only) or $1,699.99 (bundled with an 18-55mm lens). For more information on the Wi-Fi version of the Samsung GALAXY Camera and the full line of Samsung digital cameras, lenses and accessories, please visit www.samsung.com.
[ratings]