Sebastião Salgado: Genesis
Brazilian photographer Sebastião Salgado has spent much of the past nine years trekking to the farthest reaches of the globe, to the last wild places on earth to take the pictures for his new photography book, Genesis (Taschen; 520 pages), a window into the primordial corners of creation.
Read more: http://lightbox.time.com
Of the myriad works Sebastião Salgado has produced in his acclaimed photography career, three long-term projects stand out: Workers (1993), documenting the vanishing way of life of manual laborers across the world; Migrations (2000), a tribute to mass migration driven by hunger, natural disasters, environmental degradation, or demographic fears, disasters, and pressure; and this new opus, GENESIS, the result of an epic eight-year expedition to rediscover the mountains, deserts and oceans, the animals and peoples that have so far escaped the imprint of modern society – the land and life of a still pristine planet.
When I realized the first US public exhibition of this work was to open in Los Angeles, it was an absolute must see for me.  I am a huge fan of Salgado's work, a strong supporter of his causes, and I never fail to pickup helpful photographic techniques from the study of it.  Salgado is one of the top documentarians alive today and a true Grand Master of the form.  So off I went to Santa Monica, excited at the prospect of seeing such an extensive collection of first class prints in a gallery setting.  The Exhibition is being held at the Peter Fetterman Gallery inside Bergamot Station, Santa Monica, CA – a perfect setting for Salgado's bold and raw B&W work.
The first thing that struck me walking through the entry was how large the gallery space was, and how every square foot of it was taken up with this show and Salgado's earlier works.  This is a large show, much larger than I had expected.  The Genesis book is a two volume tome of over seven hundred pages weighing in at a whopping sixty lbs. each, every page filled with stunning imagery.  The book is edited as a flow, and flow it does nicely.  A true credit to the masters work, and a masterful fine art creation in and of itself.  It is published in an edition of 3,000 SUMO size: 46.8 x 70 cm (18.4 x 27.6 in.) copies, Delivered in a wooden cargo box (total weight: 59 kg [130 lb]) priced at $4,000.  Sumo size means this is the biggest, baddest, heaviest dang book you have ever seen.  Over fifty pounds per volume of total photography porn.  Subjects from around the planet, rendered by the hand of a master without regard to cost – the only focus on quality.  Breathtaking to behold in the flesh.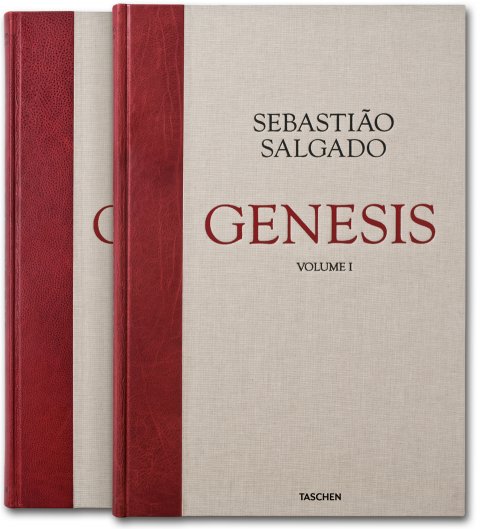 "My love letter to the planet."
— Sebastião Salgado
From the publisher's website: "On over 30 trips – traveled on foot, by light aircraft, seagoing vessels, canoes, and even balloons, through extreme heat and cold and in sometimes dangerous conditions – Salgado created a collection of images showing us nature, animals, and indigenous peoples in such shocking and intense beauty it takes our breath away. In GENESIS, one discovers the animal species and volcanoes of the Galápagos; the penguins, sea lions, cormorants, and whales of the South Atlantic; Brazilian alligators and jaguars; and African lions, leopards, and elephants. Through Salgado's lens, we travel over icebergs in the Antarctic, the volcanoes of Central Africa, the ravines of the Grand Canyon, and the glaciers of Alaska. We encounter the Stone Age Korowai people of West Papua, nomadic Dinka cattle farmers in Sudan, Nenets and their reindeer herds in the Arctic Circle, as well as the Mentawai jungle communities on islands west of Sumatra.
This Collector's Edition, designed and edited by Lélia Wanick Salgado, features exquisitely reproduced large-format images arranged not by theme or region but rather conceived as a portfolio that takes beholders on a journey around the globe, immersing them in Salgado's vision of the Earth's mesmerizing scale, order, and beauty."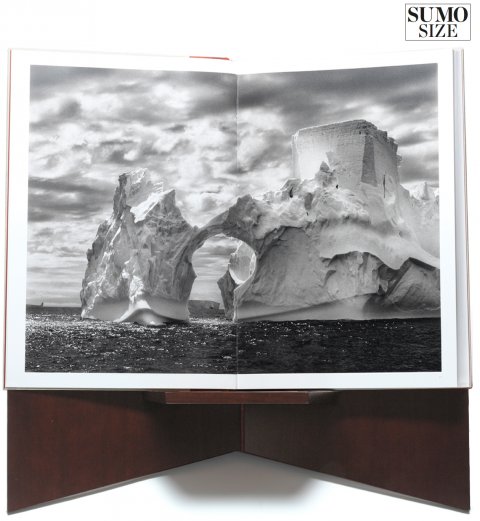 The Collector's Edition comes with a custom book stand in cherry wood veneer designed by Tadao Ando
The GENESIS book stand was conceived by Japanese architect Tadao Ando, the only living person to have won architecture's four most prestigious prizes.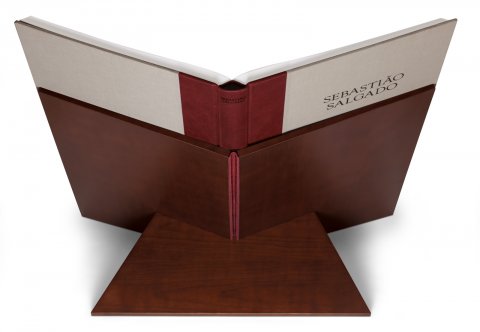 Ando's simple and innovative design consists of two "twin" pieces of wood, bound together with leather, into which a third piece of wood can be slotted to form a sturdy, elegant display.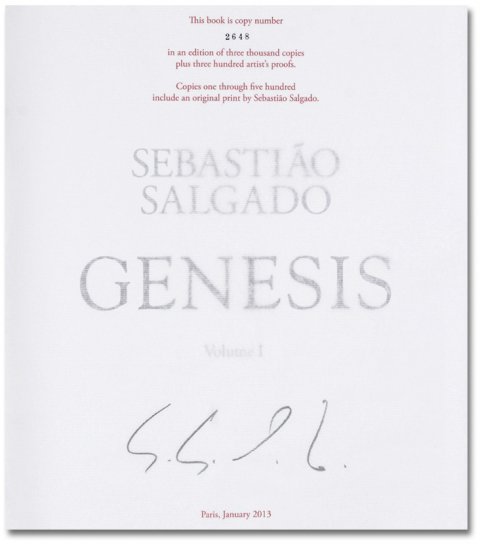 Each set is numbered and signed by the artist
Eight years of travel, over 30 journeys into territory far and beyond civilization: this publication celebrates Sebastião Salgado's majestic hymn to planet Earth in a worldwide limited edition of 3,000 numbered and signed sets.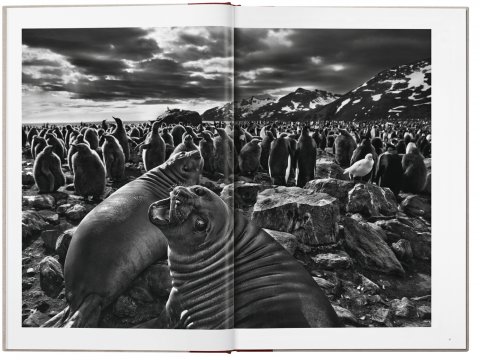 Fine print
GENESIS is printed on a traditional coated 250 gsm art paper from the German paper mill Scheufelen that is no longer available on the market and was produced specially for TASCHEN. The black and white pictures are reproduced in a four-color separation process, with two blacks and two shades of grey; the density of the blacks achieved rivals that of the finest silver gelatin prints. GENESIS was printed and bound in an Italian workshop utilizing traditional craftsmanship techniques that are unique worldwide in this field, using Italian Cialinen fabric for the cover. The Ando book stand was hand made in Spain, and the leather originates from Britain.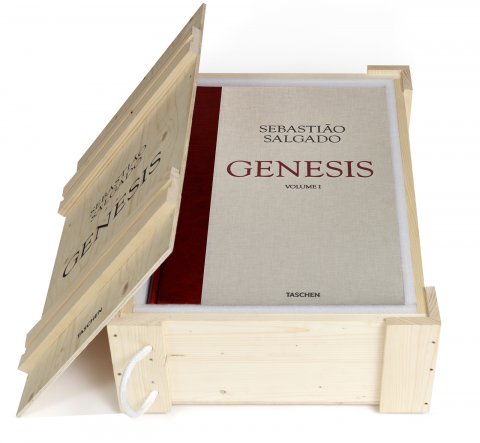 Precious cargo
The two volumes come carefully packaged along with the stand in a
robust custom-made wooden crate to preserve and protect them.
Attention: total weight is 59 kg (130 lb)!
Collector's Edition limited to 2,500 copies (No. 501-3,000), numbered and signed by Sebastião Salgado
Conceived, edited and designed by Lélia Wanick Salgado
Two volumes bound in quarter-leather and cloth
SUMO size: 46.8 x 70 cm (18.4 x 27.6 in.)
Comes with a book stand in cherry wood veneer designed by Tadao Ando
Also included is a cloth-bound caption book
Delivered in a wooden cargo box (total weight: 59 kg [130 lb])
Bottom line, this book is a mind bender, mind blower, and quite simply over the top outside the park out of this world superior to any other printed photography book I have ever seen.  It is absolutely beautiful and beautifully executed in every way.   While it is a huge monster that most of us with more modest living spaces will not be able to accommodate, it is a collectable piece truly worthy of the master who's work it contains.  The B&W printing rivals the best fiber darkroom prints in dMax, the measure of light to dark ratio in B&W printing.  If you have the room, and the money, this book would make a great centerpiece to any photography print collection.  And one certain to rise in price over coming years.  And hey, at a price of $29.62 a pound, it is less expensive than a pice of fresh swordfish.  What more could you ask?  In fact that is an excellent way to describe this work, Photographic Sushi for the Soul.
What about the large prints on the walls?  It doesn't get any better than this.  The perfect space perfectly lit with perfect photography by a world master.  And prices to match, as the largest prints are priced at $55,000!  Since my American Express doesn't go up that high, I had to pass on the print, but I did come home with the woman ;=)
All in all, this was an afternoon well spent.  Plan to invest at least a couple of hours viewing this show.  It is chock full of exquisite photographic tidbits of the world we live in perceived, photographed, and printed by a true master of the art.  This is a must see if you are anywhere near the Los Angeles area.  It is also the kind of exhibit that I will want to return to more than once.  There is so much to take in, a single trip can hardly do it justice.
These are just a few of the hundreds of amazing images in this Genesis collection.
Until October 19th, 2013  when the show closes, Press Release & Directions to the gallery are here: GENESIS PR FINAL
[ratings]